Pitot Tubes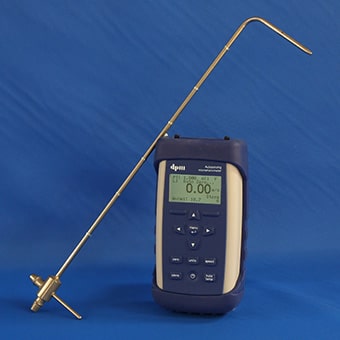 The dpm-i Pitot Tube is a new design concept in Pitot Static Tube technology. It is a multi-functional sensor. It can replace thermally heated instruments, where power requirements are high. Gives easy access to duct measurement compared to a standard Pitot Tube. For example, in ceilings voids and confined areas, where there is a thick lagging or metal cladding.
Dpm Ellipsoidal – 6mm diameter extendable Ellipsoidal Pitot Static Tube in stainless steel, for use with any micromanometer. Starts from 300mm long and can be extended to 600mm, 900mm and 1200mm using the extension poles provided. Accessories included with the pitot tube: flexible silicon tubing (2), 300mm x 10mm extension poles (3), directional pointer and instruction manual (for ST and TT Series Micromanometers).
We can also offer in-house training on DPM products.
Easy fit Pitot Tube of stainless steel construction with smooth pressure ports allowing tubing to be fitted quickly and simply. Static port acts as directional pointer. Can be used with any micromanometer. Various sizes available.
Ellipsoidal – Stainless steel Ellipsoidal Pitot Static Tube with built in directional pointer and sliding marker clips. Can be used with any micromanometer. Various sizes available.
Telescopic – Ellipsoidal Pitot Static Tube with a minimum compressed length of 200mm and a maximum extended length of 980mm. Maximum diameter of 13mm. Overall head length 64mm. Head diameter 4mm. Maximum working temperature 100°C.
We can also provide other lengths of Pitot Tube, such as 6ft or 9ft, but these are made to order so please contact us for details of prices and delivery lead times.