Vane Anemometers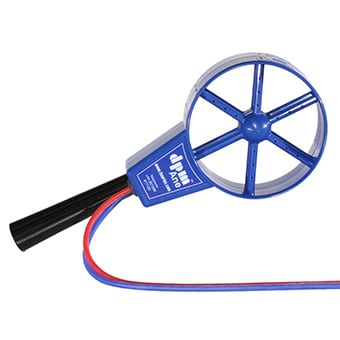 Static or Rotating Vane Anemometers are used for the measurement of air velocity and volume. These devices may have fixed or remote measurement heads and includes some systems with wireless capabilities.
The DPM ANE™ is a unique frictionless design that has no moving parts and no sensing electronics. This robust and durable handheld bi-directional anemometer can be used to measure differential pressure, air velocity and volume, compatible with the Mini Hood Kit, when connected to a suitable micromanometer. With no moving parts and high quality construction, it is almost indestructible in normal day to day usage.
We can also offer in-house training on DPM products.
The LV130, 100mm diameter, fixed head Vane Anemometer is designed to measure air velocity, air volume and ambient temperatures. The instrument has an automatic averaging facility, it can be used to measure air volume flow rates using an optional cone assembly, and can display minimum and maximum values via the clear 4 line LCD technology display.
The LCA301 is a simple to use 100mm diameter rotating Vane Anemometer that provides accurate and reliable readings every time. Ideal for HVAC commissioning at grilles, ducts, and diffusers; the LCA301 displays readings in metric or imperial mode. Features include: reversible 100mm head for supply and extract grills, calculates volumetric flow rate, compatible with Aircone flow hoods, no density correction.
The LCA501 is a hand held digital, 100mm diameter, rotating vane anemometer used for air velocity and volumetric flow measurements. Typical applications include: supply and extract grilles and flow hood balancing, HVAC commissioning and troubleshooting, laboratory safety monitoring, air conditioning and ventilation duct checks.